John Duffey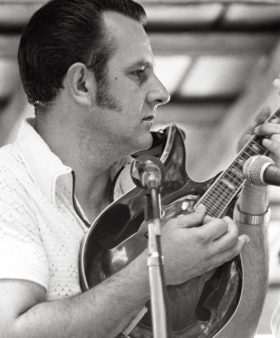 Year Inducted: 1996
Born: March 4, 1934 in Arlington, Virginia, United States
Died: December 10, 1996 in Arlington, Virginia, United States
Primary Instrument: Mandolin
"His approach to the mandolin sometimes appeared to be aimed at seeing how many different and unexpected sounds could be coaxed, squeezed, or beaten out of his instrument. In addition to his own impressive high-energy variations on Monroe-style mandolin playing, John did such unheard-of things as playing breaks on three or four strings simultaneously instead of the usual one or two. He twisted the strings, he played jazz chords, played breaks alternating between first and fourth strings, and sometimes he'd use fingerpicks instead of a flat pick."
Biography
Listening to the radio while a student at Bethesda-Chevy Chase High School in Washington's Maryland suburbs in the late 1940s, John Duffey was exposed to and became interested in the music of Appalachian migrants to the capitol region. His father, a professional tenor who performed for a time with the Metropolitan Opera chorus, disliked country music but taught his son breathing and vocal techniques that could increase his power and clarity in what was then called "hillbilly music." Starting with the guitar, in 1957 John took up the mandolin and Dobro, and soon developed a reputation for competence that overcame his cultural distance from the mountain-born Southerners with whom he played.
Duffey performed and recorded with several amateur and semi-professional groups after graduating from high school, but made his primary living as a printer, instrument repairman, and driver of a surgical supply truck. Bill Emerson, a younger neighbor in suburban Bethesda, Maryland, was also getting interested in bluegrass. In July of 1957, Emerson was playing banjo with Buzz Busby & The Bayou Boys. The mandolin-playing bandleader, guitar player (Eddie Adcock), and bassist were injured in a serious auto accident. It fell to Emerson to recruit fill-in musicians for a weekend job at the Admiral Grill in Bailey's Crossroads, Virginia. Bill knew that John Duffey was driving almost 50 miles to Frederick, MD, to play mandolin and sing tenor with Lucky Chatman and the Ozark Mountain Boys, and thought he might appreciate a closer gig. Guitarist Charlie Waller, a former member of the Bayou Boys, and bassist Larry Leahey were brought in to complete the ensemble.
The sound clicked, and the members soon dubbed themselves the Country Gentlemen. Country music historian Bill Malone perceptively observed that this band made its reputation by heightening every aspect of bluegrass – they played faster, sang higher, and performed with a dynamism that made other groups look stodgy. WARL's Don Owens got the Gentlemen a morning show on that Arlington, Virginia, station. Independent producer Ben Adelman recorded them in Washington and sold the masters to Nashville-based Starday Records. In 1958, John Duffey decided to leave his day job and play bluegrass full-time.
The bluegrass performance circuit provided scant economic rewards. At first Duffey had to moonlight to make ends meet, filling in on various sessions arranged by Adelman and Rebel Records producer Dick Freeland, and on recordings and live appearances with Bill Clifton and Mike Seeger. For 10 years starting in 1960, the Country Gentlemen appeared on Tuesday and Thursday nights at the Shamrock Club on M Street in Washington's Georgetown. There they encountered interest from the burgeoning folk music audience.
Instrumentally, the Gentlemen could play rings around popular folk artists such as the Kingston Trio and the Limelighters. Headliners like Patrick Sky, Ian & Sylvia, and Joan Baez made a point of visiting and exchanging material with the band when in Washington. John Duffey was especially quick to see in folk music an opportunity to break free of bluegrass and traditional country music's dead-end orbit. Making only minor changes to their singing and playing, the group found that John's spontaneous and at times sophomoric wit was their best magnet for college-educated audiences. The money was better and conditions more appealing on the campus, coffeehouse, and folk festival circuit.
One barrier to folk music acceptance at the time was the band's commercial country and newly composed material. John Duffey and his companions began to haunt the Library of Congress and area collections of old 78-rpm records in search of traditional tunes and lyrics. Through Mike Seeger, the Country Gentlemen arranged to record for New York-based Folkways Records. Their first release on the label (1960) was Country Songs, Old and New. It is telling that their 1961 Folkways album was titled Folk Songs and Bluegrass, and their Mercury Records debut (1963) Folk Session: Inside.
In the first half of the 1960s, the Country Gentlemen maintained dual brands. South of the Mason-Dixon line they were a hot bluegrass band with Starday singles on truck-stop and beer-joint jukeboxes. Outside the South, they were a hip and progressive folk/comedy act, bringing banjo, mandolin, guitar, string bass, and vocal harmonies to the sparse arrangements and familiar songs of composers such as Bob Dylan and Tom Paxton.
It is ironic that, as the folk audience relaxed its demand for traditionalism, the bluegrass world began to self-consciously define its boundaries. The Country Gentlemen weren't invited to the first multi-day bluegrass festival in 1965, and the next year they were presented as a novelty act. John Duffey lashed out verbally and in print, reminding critics of the risks of recycling even the best music without innovation, entertainment, and cultivating new audiences. Duffey tired of the struggle and left the Country Gentlemen in early 1969. For two years he worked as an instrument repairman, jamming and recording occasionally as a guest musician, happy to be off the road.
In January, 1972, a pick-up band that included John Duffey began appearing weekly at the Red Fox Inn in Bethesda, Maryland. All had day jobs and expected their music to be an occasional thing – they called the group the Seldom Scene to celebrate this intention. Once again, the chemistry was magical. The sound of the Scene fit an emerging culture, in which bluegrass, country, rock 'n roll, and folk influences could blend in an appealing and entertaining package. Recordings for Rebel and concert appearances, infrequent as they were, propelled the group to headline status. By 1974, they were named the top band in bluegrass in the Muleskinner News reader poll.
John Duffey's powerful tenor voice, muscular mandolin stylings, and outrageous stage antics endeared him to new generations of fans and fellow artists. For the next two decades, Duffey enjoyed the prestige and financial success which had previously eluded him. John's canny business mind and self-confidence helped the Seldom Scene to realize that, as a commodity in short supply and hot demand, they could ask and receive both top dollar and respectful treatment.
Eight albums on Rebel and nine on Sugar Hill included star-studded live concerts at the 15th and 20th anniversaries of the band. Membership of the Seldom Scene changed over time, but the innovative formula and spotlight on Duffey remained constants.
In September of 1996, John Duffey was inducted into the Bluegrass Hall of Fame, together with other members of the classic edition of the Country Gentlemen. The second weekend of December, he performed with the Seldom Scene in Englewood, New Jersey. Upon returning home, he experienced breathing difficulties and went to Arlington Hospital. Later that morning, he died of a sudden heart attack, still at the peak of his powers at age 62. Already reeling from Bill Monroe's death three months earlier, the bluegrass community was numb with shock. A theme of all the writers of obituaries and memorial messages was that they couldn't believe the big man was gone. He was such a larger-than-life presence – and such an anomaly – that his important role in the development of bluegrass music has taken more than a decade to come into focus.
– Gary Reid is a bluegrass music historian, journalist, producer, and actor based in Roanoke, Virginia.
Read the Full Bio