Michael Dennis "Mike" Auldridge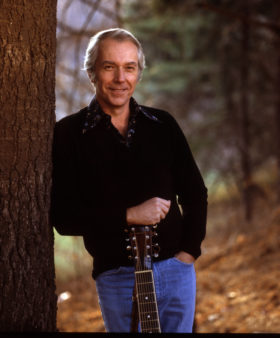 Year Inducted: 2014
Born: December 30, 1938 in Washington, DC, United States
Died: December 29, 2012 in Silver Spring, Maryland, United States
Primary Instrument: Dobro (resonator guitar)
"Mike changed everything... He was the first guy to use the Dobro in a more modern way, to phrase it more like a saxophone or some other instrument... He was able to play more modern material and that freed me. It unchained me from traditional bluegrass music."
Biography
The child of a banker, Mike Auldridge was born in 1938 in Washington, D.C. When he was seven or eight, his large family (there were nine children) moved to the suburb of Kensington, Maryland. It was here, on a jukebox in the local drugstore, that he was first exposed to what was then termed "hillbilly music." Although he didn't care for it at first, the music grew on him.
Among his earliest musical influences was an uncle on his mother's side of the family, Ellsworth Cozzens, who played Dobro on some of Jimmie Rodgers' earliest recordings. In addition to country music on the radio and on jukeboxes and the music of his uncle at family gatherings, Mike also heard and appreciated the music of Benny Goodman.
In 1950, Mike Auldridge heard bluegrass music for the first time. He was already familiar with country groups such as Roy Acuff and the Smoky Mountain Boys, Johnnie and Jack, and Wilma Lee and Stoney Cooper, and felt that the Dobro guitar he heard in these bands would sound good in bluegrass as well.
In his teen years, Mike took up the guitar and banjo and, at age fifteen, was performing once a week on radio station WDON in Wheaton, Maryland. The group, the South Mountain Boys, included Mike and his brother Dave, both on guitars. The group would practice all week in preparation for their weekly broadcast.
In 1955, Mike heard what would be his biggest musical influence, the Dobro playing of Buck "Uncle Josh" Graves when he was a new member of the Flatt and Scruggs show. Mike bought his first Dobro from Graves for $150, in 1961.
From 1963 to 1967, Mike attended the University of Maryland, where he majored in music and art. During this time he became acquainted with banjoist Ben Eldridge and attended picking parties in the area, honing his talents on the Dobro. After graduation he was relatively inactive musically, concentrating his energies on a job at a commercial art firm.
1969 was a busy year for Mike. He joined the staff of the Washington Star newspaper as a graphic artist. He also joined the band of Bill Emerson, Cliff Waldron and the New Shades of Grass and participated in the recording of two of the group's albums for Rebel. The albums highlighted material from a variety of genres and pushed bluegrass in new directions. Mike was touted by reviewers for his talent, imagination, and his "smooth country style singing." The band recorded several of Mike's original instrumentals, notably "Spanish Grass" and "Laura's Tune."
When Bill Emerson left to rejoin the Country Gentlemen in 1970, Ben Eldridge came on board to take his place in the retitled Cliff Waldron and the New Shades of Grass. Also joining the group was Mike's brother Dave on mandolin. This new configuration recorded three albums over the next two years. The recordings document Mike's developing skills on the Dobro. One review noted that he was "quickly becoming a Dobro musician deserving of more recognition than he has thus far received." His original instrumental "Rock Bottom" was pegged as "outstanding" and his playing was cited for being as "tasteful as it is inventive."
In the fall of 1971, Mike was a founding member of the Seldom Scene. Initially a once-a-week gig to satisfy the musical urges of a group of Washington area pickers, the Scene quickly achieved status as one of the top bands. Weekly appearances at Bethesda, Maryland's Red Fox Inn and, later, Alexandria, Virginia's Birchmere made them legends in the D.C. area. A series of expertly assembled albums on the Rebel label – notably Act I, Act II, Act III, Old Train, and Live! At the Cellar Door – spread their fame throughout the bluegrass world and beyond.
While working with the Seldom Scene, Mike released his first solo album, Dobro (1971). It featured guest appearances by Josh Graves, Vassar Clements, and David Bromberg. A follow-up, Blues & Bluegrass (1974), also on the Takoma label, included cameos by country-rock stars Linda Ronstadt and Lowell George. Among the highlights were Mike's laid-back vocals on "Take Me" and "Bottom Dollar," leading no doubt to his 1975 Grammy nomination for Best Male Vocalist in Country Music.
Mike Auldridge's playing matured during his tenure with the Seldom Scene. His first recordings reflected admiration for his idol Josh Graves. His work with the Scene was noted for its smoother qualities and chime-like tones. His refined stylings evidently found favor with the readers of Muleskinner News magazine, who voted Mike the Best Dobro Player every year from 1974 to 1978.
In 1975, one of Mike's brothers left a steel guitar at his house, which set him on a whole new musical trajectory. While he still loved the Dobro, he awoke each morning anxious to explore the new instrument. Soon, he was adding steel to recordings of the Seldom Scene. Mike also guested on steel on several of Doyle Lawson's albums.
The following year, the newspaper where Mike had worked for the last seven years closed up shop. In some ways it was a scary proposition but it also allowed him to concentrate on the Seldom Scene and session work. Having already guested on Linda Ronstadt's Heart Like a Wheel (1972), his newfound freedom found him recording with a host of artists, including Emmylou Harris, Jonathan Edwards, Lyle Lovett, the Country Gentlemen, Dolly Parton, Mary Chapin Carpenter, Hank Williams, Jr., Suzy Boggus, and Merle Travis.
In the 1980s, Mike was a featured columnist in Frets magazine, where he offered advice on playing the Dobro and provided tablature for a variety of songs. Not surprisingly, he was also a recipient of top honors in a Frets readers' poll which named him Best Dobro Player. His continued popularity was due in part to his long-standing association with the Seldom Scene, a multitude of session work on high-profile albums, and the 1981 release for Sugar Hill, Eight String Swing, which featured jazz standards "Stompin' at the Savoy" and "Caravan."
By the early and middle 1990s, Seldom Scene co-founder John Duffey wanted to cut back on the number of performances the group was playing. To pick up the slack, Mike formed a folk-pop-country fusion group with T. Michael Coleman and Moondi Klein. The band, Chesapeake, released three CDs on the Sugar Hill label. In 1996, Mike retired from the Seldom Scene after twenty-five years of service.
Entering the 2000s, Mike returned to a more mainstream bluegrass style with a group called Auldridge-Bennett-Gaudreau. Later in the decade, he was part of John Starling and Carolina Rose, as well as the Good Deale Bluegrass Band. His last performances were with the Washington-based group Darren Beachley and Legends of the Potomac.
In addition to recordings with the Seldom Scene and Chesapeake, Mike made five solo albums, two duet projects, and two others that featured him in collaboration with other Dobro players. The 1994 release Great Dobro Sessions showcased many of the top pickers of the day and won a Grammy award for Best Bluegrass Album. Mike also shared his knowledge of the instrument by producing a series of instructional VHS tapes and DVDs.
A lengthy battle with prostate cancer took Mike Auldridge's energy and his speaking voice, but he was able to attend the National Endowment for the Arts event where he was presented with the National Heritage Award in October of 2012. Two months later, Mike died at home under hospice care.
– Gary Reid is a bluegrass music historian, journalist, producer, and actor based in Roanoke, Virginia.
Read the Full Bio