The Rounder Founders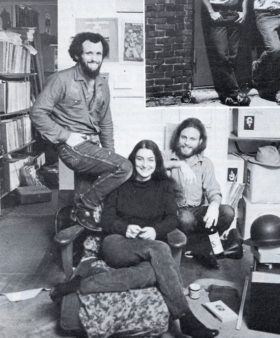 Year Inducted: 2016
"Rounder has certainly grown as a business enterprise, from three friends all sharing a living and working space to [at one point, over 100] people working together as a real business. The growth has largely been organic, though, and the sense of purpose—the mission—which was the reason for founding Rounder, still remains at its core and is shared by most of the key people at today's Rounder."
Biography
Ken Irwin, Marian Leighton Levy, and Bill Nowlin founded Rounder Records in 1970 to present old-time and bluegrass music that might not otherwise be recorded. The label grew to encompass a wide variety of genres and a catalog of more than 3,000 titles, becoming one of the largest independent record labels in the United States.  
Ken Irwin was raised in the New York suburbs. Music in the Irwin household included albums of Broadway show tunes, but rock 'n' roll made more of an impression on Ken. During his senior year in high school, attendance at a Pete Seeger concert steered Ken in the direction of folk music. His first year at Tufts University, where he majored in psychology, paired him with his future musical co-conspirator and business partner, Bill Nowlin. Exposure to The Greenbriar Boys, Cambridge's Club 47, and the Charles River Valley Boys, the Hillbilly at Harvard radio show, Boston's Hillbilly Ranch and the Lilly Brothers, and forays to fiddlers' conventions focused Ken's interests upon bluegrass, old-time, and other roots music.      
Bill Nowlin was born in Boston but moved to Lexington, Massachusetts, at age five. He spent seven summers working as a guide on the town's Revolutionary War Battle Green. Although he took piano and trumpet lessons, his teen musical tastes gravitated towards Elvis Presley, Little Richard, Ray Charles, and the Kingston Trio. As a youth, Bill developed an intense passion for baseball, with a particular fixation on the Boston Red Sox that remains unabated to this day. In college, he majored in political science. Once at Tufts in the fall of 1962, his trajectory into bluegrass and old-time music closely followed Ken Irwin's. 
Marian Leighton was born in 1948 in Harrington, Maine, in the easternmost county in the United States. In contrast to Ken and Bill, who grew up in the suburbs, Marian was raised in the country. Her family grew and canned all of their vegetables, and her father and mother worked a variety of jobs to help make ends meet. Always a voracious reader, Marian was a leader in school and in her local Baptist church, and heard Hank Williams at home. Marian's musical horizons expanded greatly upon meeting Ken Irwin in the middle 1960s and in going to the Club 47 in Harvard Square during college and graduate school. She fell in love with bluegrass the first time she heard it.
Their first releases were a self-titled album by North Carolina banjoist George Pegram and one by the progressive old-time band The Spark Gap Wonder Boys. The label's first bluegrass album was released in 1971: Joe Val and the New England Bluegrass Boys' One Morning in May. Over the next five years, the label released sixty albums that included old-time (Snuffy Jenkins and Pappy Sherrill, Norman Blake, Ola Belle Reed, the Highwoods Stringband, and the Blue Sky Boys), traditional bluegrass (Don Stover, Ted Lundy, Del McCoury, the Bailey Brothers, and Buzz Busby), and progressive bluegrass (notably Country Cooking and Tony Trischka). A writer describing the new label referred to Rounder as releasing "roots music and its contemporary offshoots."
In 1975, Rounder released one of the seminal bluegrass albums: J.D. Crowe and the New South. Commonly referred to by only its number, 0044, the album—with rising stars Ricky Skaggs, Tony Rice, and Jerry Douglas—did much to chart the course of bluegrass for the balance of the 1970s and beyond.     
The years following the release of the New South album saw Rounder at the forefront of trending bluegrass. Acts such as Tony Rice and Boone Creek (with Ricky Skaggs, Jerry Douglas, and Terry Baucom) did much to continue the forward momentum of contemporary bluegrass. Giving balance to the progressive movement were the ultra-traditional Johnson Mountain Boys and the Nashville Bluegrass Band. Further honoring the traditions of the music was a powerhouse recording group which consisted of Doyle Lawson, J.D. Crowe, Tony Rice, Bobby Hicks or Vassar Clements, and Todd Phillips or Mark Schatz, and Jerry Douglas. Known collectively as the Bluegrass Album Band, their series of six albums offered deft recreations of classics from the repertoires of Bill Monroe, Flatt and Scruggs, and other bluegrass pioneers.
The roots of bluegrass were celebrated in two different series of releases that started in the middle 1970s. The Early Days of Bluegrass gathered obscure but influential 78 and 45 rpm recordings from the 1950s and made them available for current audiences. The albums tended to be thematic and were geared to a specific artist (Bill Clifton or the Church Brothers) or a particular record label (such as Rich-R-Tone). Rounder's Special Series featured reissue compilations licensed from major labels that owned the rights to material by Bill Monroe, Flatt and Scruggs, the Stanley Brothers, Louvin Brothers, Osborne Brothers, Jim and Jesse, and Jimmy Martin.
 As the label continued to grow, its catalog expanded to include folk, reggae, zydeco, blues, and more. A 1978 release by George Thorogood and the Destroyers called Move It On Over sold 500,000 copies. While many bluegrass and folk releases barely broke even, the sudden infusion of capital from the Thorogood success enabled the Rounders to build a stronger team to continue their roots music mission.
In 1987, the label signed fourteen-year-old Alison Krauss. Her second solo release, I've Got That Old Feeling, earned a Grammy for the label. During the span of her association with Rounder, Krauss has sold some twelve million records and received twenty-six Grammy awards.       
It has never been enough for a label to simply make great records. There has to be a mechanism to get those records to the marketplace. Rounder, from the start, formed its own distributorship while also helping create a network of distributors. In the early 1990s, to give them better control in delivering their albums to retailers, the Rounders expanded their efforts in distribution, at their height representing 400 smaller independent labels, including almost all the bluegrass labels.
The early 1990s brought another impressive series of reissues. Rounder reissued all of the Victor recordings of two seminal old-time music acts: the Carter Family and Jimmie Rodgers, and released two albums by the Monroe Brothers.  
Meanwhile, at the rate of about 100 releases per year, the Rounder catalog continued to add an impressive roster of talent that included Del McCoury, David Grisman, the Whitstein Brothers, Hazel Dickens, and James King. They recorded supergroups Dreadful Snakes (Jerry Douglas, Pat Enright, Bela Fleck, Mark Hembree, Blaine Sprouse, and Roland White) and Longview (Dudley Connell, James King, Don Rigsby, Joe Mullins, Glen Duncan, and Marshall Wilborn). The compilation O Sister sold over 175,000 copies.
With an eye toward the future, the three founders entrusted leadership of the company to a president, John Virant, who brought in new life and other musics. 
In 2010, after 40 years, with the transition to digital music well underway and looking to preserve the Rounder legacy, Irwin, Nowlin, and Leighton Levy sold the organization to Concord Music, an independent music company based in Beverly Hills. In 2014 the operation was moved to Nashville. The Rounder founders continue to work with current artists such as The Gibson Brothers, the Lonely Heartstring Band, Steve Martin, The SteelDrivers, and the Steep Canyon Rangers. Irwin, Leighton Levy and Nowlin all continue to be active in producing and consulting on various projects.  
– Gary Reid is a bluegrass music historian, journalist, producer, and actor based in Roanoke, Virginia.
Read the Full Bio