Carter Stanley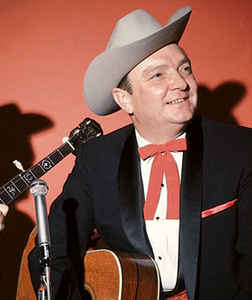 Year Inducted: 1992
Born: August 27, 1925 in Big Spraddle Creek, Dickenson County, Virginia, United States
Died: December 1, 1966 in Bristol, Tennessee, United States
Primary Instrument: Guitar
"Pee Wee [Lambert] played the mandolin and Ralph he played the banjo, just forefinger and thumb, and Carter he was learning Lester Flatt strokes. They was getting pretty good at it 'cause they practiced; they didn't fool around."
Biography
Carter Stanley and his younger brother Ralph grew up in the remote coal and timber fields of southwestern Virginia where they spent most of their lives. Father Lee Stanley was a powerful singer in the Appalachian tradition, which his boys also experienced at the McClure Primitive Baptist Church. Mother Lucy Smith Stanley was accomplished at the clawhammer-style banjo. Both widowed in previous marriages, Lee and Lucy separated when Carter was 16 and Ralph was 14. The boys were close companions and shared a strong interest in the mountain music that surrounded them. They played widely at family and community gatherings, graduating from imagined instruments of kindling wood to the guitar (Carter) and banjo (Ralph) as young teenagers.
After graduating in 1943 from Irvington High School in Nora, Virginia, where he was class president, Carter served two years in the Army Air Corps. Committed to a professional music career, Carter joined Roy Sykes and the Blue Ridge Mountain Boys in 1946, playing daily on WNVA in nearby Norton, Virginia. When Ralph was discharged later that year, Carter and bandmate Pee Wee Lambert left their group to form the Stanley Brothers and the Clinch Mountain Boys. Winning an audition on Bristol's brand-new 50,000-watt station, WCYB, the group performed daily on the noontime "Farm and Fun Time" for most of the next 12 years. Recordings with Johnson City, Tennessee's Rich-R-Tone label began in 1947.
The Clinch Mountain Boys at first played in an old-time style reminiscent of Mainer's Mountaineers. Carter's songwriting was a distinctive feature of the band's appeal. "Mother No Longer Awaits Me at Home" and "The Girl Behind the Bar" were followed by "Little Glass of Wine," which became a regional hit. The influence of Bill Monroe and the Blue Grass Boys and Bill's alumni Lester Flatt and Earl Scruggs soon had the Clinch Mountain Boys playing a unique fusion of mountain music and the emerging bluegrass style.
In 1949, the popular act's signing to Columbia prompted Bill Monroe to leave that label. During the next several years, the Stanley Brothers developed an innovative style of trio singing. Carter sang the verses solo; on choruses Ralph harmonized on a higher tenor line while Pee Wee Lambert sang an even higher baritone part on songs like "The Angels Are Singing," "The Lonesome River," and "The White Dove."
A slow period in the winter of 1950-1951 led to a brief hiatus in the Stanley Brothers performances and Columbia recordings. Bill Monroe called upon Carter as a replacement for Jimmy Martin as lead singer with the Blue Grass Boys. The anger Bill had felt toward the Stanleys, whom he felt were copying his music, soon dissipated and the three remained friends for the rest of their lives. In July of 1951, Carter recorded six numbers with Bill, including the notable duet "Sugar Coated Love" and quartets "You're Drifting Away" and "Get Down on Your Knees and Pray." By October, the Clinch Mountain Boys were back together and hotter than ever.
In 1953, the band switched labels with Flatt and Scruggs, joining Mercury. This proved a lucky move, as Mercury producer Dee Kilpatrick loved the hard-edge Appalachian sound and stuck with the Stanley Brothers as emergence of rock 'n roll altered or destroyed the careers of many of their peers. Carter felt the Mercury recordings of the next five years were the brothers' best. In 1958, the band relocated to Live Oak, Florida, to found the Suwanee River Jamboree on WNER. That year, they joined King Records of Cincinnati, where they remained until Carter's death.
King's Syd Nathan encouraged the band to de-emphasize the fiddle, banjo, and mandolin in favor of a two-guitar sound. Nathan also pitched honky-tonk flavored material he felt would more likely appeal to a country music audience. The Stanley Brothers' only charting single, "How Far To Little Rock," peaked at number 17 in Billboard in 1960. Ironically, it was the folk music audience that carried the Stanley Brothers to global prominence and appearances in the 1960s.
A brooding personality, a decade of road travel away from home and the mountains he loved, and meager financial rewards for his strenuous musical labors perhaps contributed to Carter's deepening alcoholism. His health suffered, and bandmates Ralph Stanley and George Shuffler were increasingly required to fill Carter's roles as emcee and lead singer. Carter appeared at the first multi-day bluegrass festival in Fincastle, Virginia, Labor Day Weekend of 1965, where he triumphantly reprised his recordings with Bill Monroe in the Sunday afternoon "Bluegrass Story." December 1, 1966, two months after his last concert at Monroe's Brown County Jamboree in Bean Blossom, Indiana, Carter Stanley died of liver failure. He was 41.
– Fred Bartenstein is a bluegrass music historian and journalist.
Read the Full Bio