Tony Rice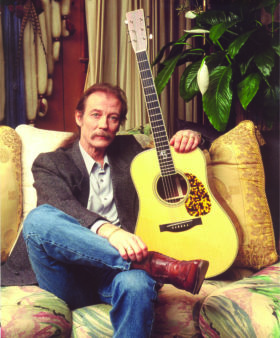 Year Inducted: 2013
Born: June 8, 1951 in Danville, Virginia, United States
Died: December 25, 2020 in Reidville, North Carolina, United States
Primary Instrument: Guitar
"When I first started working with [J.D. Crowe], if the timing was not what he was used to, if it didn't have exceptionally good drive, he didn't feel comfortable playing until you did have it. I guess it was through him, indirectly… he was the main one-on-one influence that made me realize the importance of that."
Biography
Tony Rice was born in Danville, Virginia, on June 8, 1951. In his infancy, the family headed west to Los Angeles where Tony's earliest musical memory is the guitar playing of his uncle, Hal Poindexter, who played in the Golden State Boys. The band, headed by Tony's guitar and mandolin-playing father Herbert Rice, also included uncles Walter Poindexter on banjo and Leon Poindexter on bass.
Tony started out learning to play mandolin but soon switched to guitar. He made his performing debut at age nine when he sang "Under Your Spell Again" on the Town Hallradio show. It was here that he met the Kentucky Colonels and their lead guitarist, Clarence White, who would have a profound impact on his playing. Shortly after, Tony played in a group with his brothers Larry on mandolin and Ronnie on bass, plus banjo player Andy Evans. The youngsters played a number of California venues including the Ash Grove and Troubadour nightclubs and Disneyland.
The pursuit of work created somewhat of a transient lifestyle for the Rice family and Tony's teenage years found them living in Florida, Georgia, Texas, and North Carolina. In 1970 Tony attended Carlton Haney's festival in Reidsville, North Carolina, where he met and joined the Bluegrass Alliance, taking the place of exiting guitar wizard, Dan Crary. Tony had previously performed as a rhythm player, while developing his lead guitar work in private. Through the Alliance, Tony came in contact with Sam Bush, another musician who shared his now widening eclectic tastes in music.
After a year with the Bluegrass Alliance, Tony left to begin a four-year stint with J.D. Crowe, whose group already included Tony's older brother Larry. Tony credits Crowe for teaching him to play perfectly in time and with soul, to hit his notes clearly and cleanly, and how to use the guitar efficiently. Crowe's group maintained a busy schedule, playing six nights a week with amplified instruments in hotel lounges in the Lexington, Kentucky, area. During the summer they hit the bluegrass festival circuit.
By 1975, with Ricky Skaggs a new member, the band was all-acoustic when the landmark album J.D. Crowe and the New South was released. Rounder 0044, as it has come to be known, set the tone for contemporary bluegrass for much of the next decade and beyond. Tony contributed some of the album's most successful material, including "Old Home Place," "You Are What I Am," "Ten Degrees and Getting Colder," and "Summer Wages." He earned high marks for his vocals, which by now were as compelling as his instrumental work.
In 1975, Tony headed back to California to become a member of the David Grisman Quintet. The outfit was described as a combination of Miles Davis, Bill Monroe, Django Reinhart, and more. As a member of this group Tony was able to explore more deeply his interest in jazz. Tony's playing by this time was a combination of flatpicking, crosspicking, and harmonic intervals. He released three solo recordings in the 1970s. Guitar andCalifornia Autumn included members of the Crowe band. The self-titled Tony Rice featured members of the Grisman Quintet, fiddler Richard Greene, and others. At the end of the decade the albums Manzanita and Acoustics heralded the formation of the Tony Rice Unit.
As he continued to explore new avenues of playing, which eventually morphed into a style he called "spacegrass," Tony also embarked on a project that paid homage to the roots of bluegrass. In 1981, along with J.D. Crowe, Doyle Lawson, Bobby Hicks, and Todd Phillips, he formed a recording supergroup, which came to be known as the Bluegrass Album Band. The Bluegrass Album featured stellar renderings of classics originally recorded some twenty-five to thirty years earlier by Bill Monroe, Flatt and Scruggs, and Jimmy Martin. Over a fifteen-year period, six volumes were issued. All met with critical acclaim and were among the bluegrass genre's best sellers.
The decade of the 1980s was a good one for Tony. It began with a widely acclaimed duet album with fellow Crowe alumnus Ricky Skaggs, recreating classic bluegrass and old-time duets. Following were four Bluegrass Album Band projects, four Tony Rice Unit recordings (Mar West, Still Inside, Backwaters, and a compilation disc called Devlin), a pairing with guitar legend Norman Blake, and a project titled The Rice Brothers that brought Tony back together with brothers Larry, Wyatt, and Ron. Church Street Blues featured just Tony and his guitar and vocals. With additional releases, Cold on the Shoulder, Me and My Guitar,Native American, and Tony Rice Plays and Sings Bluegrass, Tony became one of the most widely recorded artists in bluegrass.
In the '90s, the International Bluegrass Music Awards were initiated to recognize artists' current popularity. The first program, in 1990, recognized Tony and the Bluegrass Album Band as Instrumental Group of the Year and Tony was honored with Guitar Player of the Year. He went on to win the Guitar Player award four more times in the 1990s. The Tony Rice Unit received the Instrumental Group of the Year Award in 1991 and 1995. Instrumental Recording of the Year awards went to Blake & Rice 2 in 1991 and to Bluegrass Album Band, Volume 6 in 1996.
Although the 1990s were marked by numerous awards and a multitude of CD releases, the era was noted for a forced change in the direction of Tony's music. Early in the decade he was diagnosed with a muscle tension dysphonia, a condition that affected his vocal chords. Tony's last performance as a singer took place in 1994. He continues to be highly regarded as an instrumentalist.
With the start of the new millennium, Tony began to relax the frenetic pace of his recorded output. The Tony Rice Unit released two projects, Unit of Measure and Acoustic Swing. A recording that was produced in 1993 with David Grisman and Jerry Garcia finally saw the light of day in 2000 as The Pizza Tapes. Tony and Larry Rice, Chris Hillman and Herb Pedersen teamed for a second time, and a pair of releases showcased the talents of Tony with Peter Rowan. Despite his reduced public appearances, Tony picked up the 2007 IBMA award for Guitar Player of the Year.
In addition to the vast number of albums and CDs he has recorded over the years, Tony has appeared on several performance and instructional videos and DVDs. The authorized biography Still Inside: The Tony Rice Story by Tim Stafford and Caroline Wright was released in 2010. It offered an in-depth account of Tony's award-winning life in bluegrass and beyond.
– Gary Reid is a bluegrass music historian, journalist, producer, and actor based in Roanoke, Virginia.
Read the Full Bio