Vassar Clements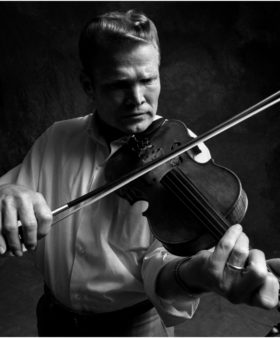 Year Inducted: 2018
Born: April 25, 1928 in Kinard, Florida, United States
Died: August 16, 2005 in Goodlettsville, Tennessee, United States
Primary Instrument: Fiddle
"It's hard to figure. I ask people I know real good why, out of all the fiddle players, why pick me. They say it is my feeling, that the feeling comes from me to them."
Biography
Vassar Clements was an innovative fiddler who logged time with several of the most influential early bluegrass masters and later enjoyed fame for his work with a number of progressive headliners. He is also credited with shaping a genre of music that came to be known as "hillbilly jazz."
He was born and raised in the small Florida panhandle town of Kinard, about 75 miles southwest of Tallahassee. Vassar's early playing was shaped by a curious mix of big band music of the 1930s and, later, the fiddling of Florida native Chubby Wise. With two cousins, Carroll and Gerald Clements, he formed a hillbilly trio that performed throughout Florida.
His first professional work came in 1949 when he journeyed to Nashville to audition for Bill Monroe. He worked off and on with Monroe for the next eight years and recorded ten songs for Monroe's first sessions for Decca Records in 1950. Included were classics such as "Blue Grass Ramble," "New Mule Skinner Blues," "I'm On My Way to the Old Home," and "The Old Fiddler."
A stint in the Army found Clements as part of a Special Services band in Germany in 1953. Bouts with alcoholism interfered with Vassar's life as a touring musician and at times he returned home to regroup.
In 1958, Jim and Jesse found Vassar working at Valdosta Containerboard Mill in Clyatville, Georgia, and persuaded him to join their Virginia Boys, where he stayed until 1961. Over a three-year period, he recorded fourteen songs and tunes with them for Starday and an additional six songs for the duo's first Columbia/Epic releases. Highlights included the instrumentals "Border Ride" and "Dixie Hoedown," as well as "I'm Changing the Words to My Love Song," "Gosh, I Miss You All the Time," and "Diesel Train."
The early and middle 1960s found Vassar again in non-musical pursuits. His work included time at NASA as a plumber, switchman for the Atlantic Coast Railroad, and owner of a franchise service that delivered potato chips and related foods to residential customers. It was while working with Charles Chips that Vassar received a call from Las Vegas-based Judy Lynn with an offer to join her show. He sold his home and loaded his belongings into a U-Haul and headed west, getting as far as Nashville before deciding that Vegas wasn't for him.
In Nashville, Vassar was asked to join Jimmy Martin's Sunny Mountain Boys. He stayed on for most of 1967 and recorded two songs: "Goin' Ape" and "Steal Away Somewhere and Die." By 1969 Vassar was dividing his time between country music artist Faron Young and the bluegrass group Bobby Smith and the Boys From Shiloh.
Despite having worked as a professional musician for most of the last twenty years, Vassar's was hardly a household name. This began to change during the 1970s. He started 1971 as a founding member of John Hartford's Dobrolic Plectral Society, with whom he recorded the influential Aereo-Plain album and later that year signed on with the Earl Scruggs Revue. His participation in the August 1971 recording sessions that produced the landmark Will the Circle Be Unbroken three-LP set firmly established Vassar as an in-demand and visible artist.
Vassar continued to work with Earl Scruggs until early 1974. During this period he still found time to freelance on other projects, most notably a short-lived bluegrass group in California that included Jerry Garcia, David Grisman, and Peter Rowan. Their live album Old and in the Way, released in 1975, is one of the all-time best-selling albums in bluegrass history. Vassar's first major label solo album was recorded for Mercury/Polygram in 1973.
For nearly a decade starting in 1975, Vassar fronted his own Vassar Clements Band. The group was most active in the middle and late 1970s and made sporadic appearances into the early and middle 1980s. The balance of Clements' career was spent as a solo artist. He sometimes made joint appearances and recorded with other musicians. He is reported to have played on anywhere from 2,000 to 4,000 recordings by other artists, including the Allman Brothers, the Grateful Dead, Elvin Bishop, Hot Tuna, the Marshall Tucker Band, Papa John Creach, the Monkees and Kris Kristofferson.
Vassar made approximately 25 recordings under his own name in the 1970s, '80s, and '90s, mostly on the Rounder and Flying Fish labels. Vassar's Crossing the Catskills (1973) was among the Rounder label's first album releases, bearing the catalog number 0016. A decade later, he teamed up for an album called Vassar Clements, John Hartford, Dave Holland. One of Rounder's most popular series featured top contemporary bluegrass artists performing classic songs from the genre's formative days. Six Bluegrass Album Band albums were released over a fifteen-year period, two of which featured Vassar: Sweet Sunny South (1989) and Instrumentals (1996). One of Vassar's few all-bluegrass recordings, Grass Routes, was released by Rounder in 1992.
Vassar was part of an all-star ensemble with Norman Blake, Tut Taylor, Sam Bush, Butch Robins, David Holland, and Jethro Burns that released an 1975 album for Hank Deane's HDS Records, later reissued on Flying Fish. Other Flying Fish releases included The Bluegrass Session (1977), including backing musicians Bobby Osborne and Andy Statman, a multi-artist, mixed-genre project titled Nashville Jam (1979), the self-titled Vassar (1980), Once in a While (1992), and Together at Last (1987), an outing that paired him with noted French jazz violinist Stephane Grappelli.
It was also with Flying Fish in 1979 that Vassar released the first of his Hillbilly Jazz albums. It was a mix described as an "improvisational style that blends and borrows from swing, hot jazz, and bluegrass along with roots also in country and other musical traditions." The phrase "hillbilly jazz" was coined by his wife, herself the inspiration for Vassar's fiddle tune "Silly Millie.". He followed this up in 1986 with Hillbilly Jazz Rides Again.
Visually, three things distinguished Vassar Clements. One was his trademark fiddle, its unique headstock featuring the carved image of a bearded man. The instrument is thought to have been made by noted violinmaker Gasparo Duiffopruggar (1514- c.1570). A second was his distinctive blond pompadour, a hairstyle that stood out among longer-haired bandmates of the 1970s. A third was his meerschaum pipe, which he was rarely seen without.
Vassar Clements was diagnosed with lung cancer in the early part of 2005. It subsequently spread to his brain and he died at home on August 16, 2005.
– Gary Reid is a bluegrass music historian, journalist, producer, and actor based in Roanoke, Virginia.
Read the Full Bio