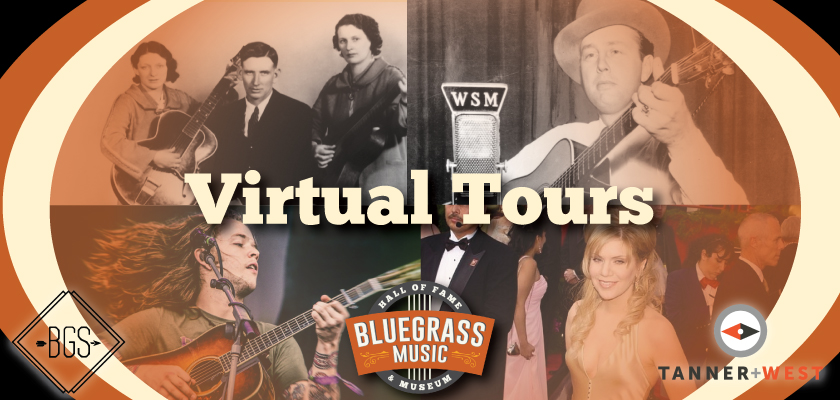 Due to the global Covid-19 pandemic, the Bluegrass Music Hall of Fame & Museum has been closed to the public for over a month.  In an effort to continue reaching bluegrass fans all over the world, the Hall of Fame has produced a virtual tour led by Executive Director Chris Joslin.
Within the Hall of Fame, several core exhibits explore a chronological history of bluegrass music.  From the early sources to contemporary interpretations, the exhibits tell the story of bluegrass music via documentary-style films, artifacts, images, and hands-on experiences with bluegrass instruments.  Joslin takes virtual visitors through each area commenting on the exhibits and concluding each area with a live performance of a song that was significant to that specific era.
Joslin comments, "Until you can travel to the Bluegrass Music Hall of Fame & Museum, we will bring it to you.  The virtual tour is a great introduction, but I can't wait for you to see the Hall of Fame in person and to experience the energy around the music first-hand.  What Bill Monroe created is now enjoy around the world, and Owensboro, Kentucky is at the headwaters of this uniquely American genre of music."
Enjoy, and we hope you can visit us soon!
The emergence of bluegrass music is a uniquely American story. A variety of musical styles evolved and combined in the 20th century, eventually forming a brand new genre. The music of the rural South blended with other sounds as folks listened to the radio, played records on the phonograph, and collaborated with other musicians in an ever-more transient nation. Streams from the blues, jazz, gospel, ballads, country and more flowed into the river of music that would become bluegrass.
Dawn of the Bluegrass Era
Created in the mid-20th century under the tutelage of Kentuckian Bill Monroe, Virginia-born brothers Carter and Ralph Stanley, Tennessean Lester Flatt, and North Carolinian Earl Scruggs, bluegrass music has since grown to a worldwide phenomenon. The high lonesome sound, with its soaring vocals and dazzling fast-paced instrumentals, was beamed nationwide by radio. A host of musicians—many returning from World War II military service and located predominantly in the South—were smitten with the fresh, exciting, and as-yet-unnamed style.
Things changed radically for most bluegrass artists after Elvis hit. By the late 1950s, rock and roll had decimated the ranks of traditional country music fans. Bluegrass found a refuge in the bars and honky-tonks that dotted working-class industrial neighborhoods where large numbers of rural southerners were migrating. In cities like Baltimore, Cincinnati, Dayton, and Detroit, bands found low wages and less-than-ideal working conditions. But the music survived, developed, reached new audiences, and even got a name in the years between 1955 and 1969.
In 1965, Carlton Haney presented the first multi-day bluegrass festival at a horse farm near Roanoke, Virginia. On Sunday, Haney narrated the story of bluegrass, centering upon Bill Monroe and musicians who had worked with him.  The event came at a low point in bluegrass music's popularity.  However, by 1970, outdoor bluegrass festivals were staged all over North America; soon they would extend to other continents and indoor events. No longer reliant upon country and folk infrastructure, a worldwide bluegrass community coalesced, with its own publications, radio programs, record companies, and instrument makers, as well as new trade and fan organizations.
Market research in the new millennium disclosed that bluegrass was the most-liked music of 15.5 million Americans. Since the 1990s, use of the word "bluegrass" has evolved beyond earlier definitions. Interest in forms that came before bluegrass ("roots") accompanies combinations with other styles, instruments, and techniques ("branches"). The term "big tent" was coined to embrace all these phenomena as bluegrass entered the digital and internet age. With early performers and fans passing from the scene, the music is now in the hands of new generations.
Video Oral History & Hall of Fame
Each year a nominating committee creates a slate of ten to fifteen candidates for the International Bluegrass Music Association's Hall of Fame. From these names, more than 200 electors—chosen for their accomplishments and/or knowledge—vote to select the inductees. In alternating years there are additional slates, restricted to early contributors or non-performing candidates. The formal induction takes place during the International Bluegrass Music Association's annual Awards Show. A later celebration takes place here at the Museum, as the plaques of new inductees are unveiled in the Hall of Fame gallery.
Woodward Theatre & Audio/Video Production