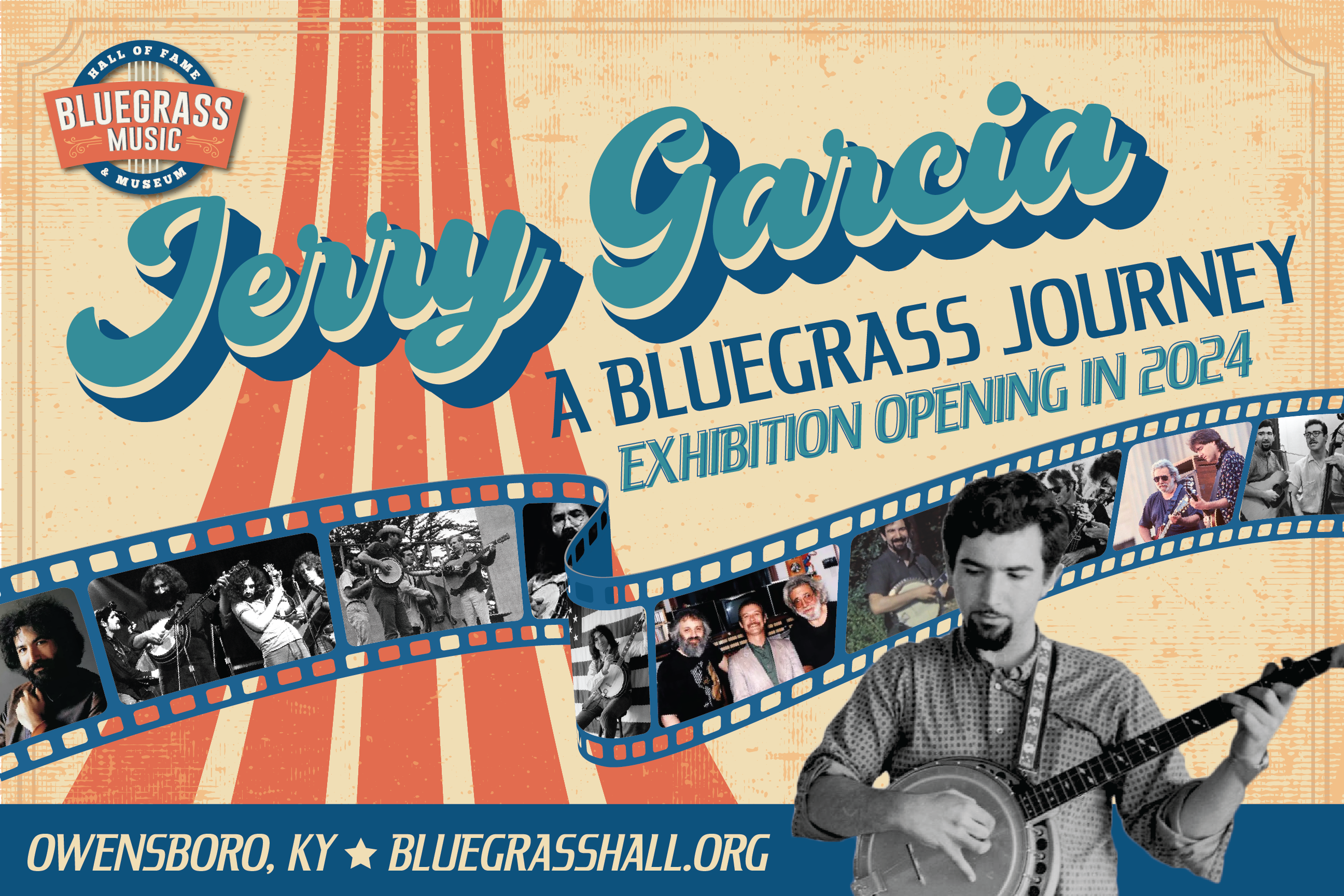 The Bluegrass Music Hall of Fame & Museum will open a new exhibition highlighting the bluegrass roots and career of music icon Jerry Garcia. The exhibition will launch with an opening weekend celebration on March 29-30, 2024, in Owensboro, Kentucky.
Acclaimed jamgrass legends, Leftover Salmon, will be the house band for two nights of music performed live at the Hall of Fame. Special guests will join the band to highlight Garcia's bluegrass music catalog, including Old & In the Way, the acoustic side of the Grateful Dead, David Grisman album collaborations, and more.
Exhibition and concert tickets will be on sale at a later date.
The temporary exhibition that will be open to the public for two years, and will include several of Garcia's banjos, an acoustic guitar, a pedal steel, and many more artifacts to tell his bluegrass story. Within the Hall of Fame's exhibit space, "Jerry Garcia: A Bluegrass Journey" will occupy 2000 square feet and include artifacts, interactives, exclusive interview content, and more.
Jerry Garcia began his music career in the early 1960s in the San Francisco, California area playing bluegrass and folk music. Known for his work as the lead guitarist and vocalist for the Grateful Dead, Garcia embarked on a music career playing banjo and acoustic guitar in Palo Alto, California before the founding of the Grateful Dead in 1965. Garcia was an avid banjoist, who even journeyed east from the Bay Area to seek out bluegrass legends Bill Monroe, Jim & Jesse, The Osborne Brothers and more and first met his later musical collaborator David Grisman on this trip in 1964 at a Sunset Park bluegrass festival in West Grove, Pennsylvania.
Even after the Grateful Dead had become a staple in rock 'n' roll, Garcia teamed up with Grisman, Peter Rowan, Vassar Clements, and John Kahn to form the influential Old & In the Way bluegrass super- group in 1973, whose live album release became the biggest selling bluegrass album for decades. Garcia continued his bluegrass journey with side projects such as The Good Old Boys with Hall of Fame members Don Reno and Chubby Wise, the Jerry Garcia Acoustic Band, and later collaborations with Grisman. A posthumous release of the The Pizza Tapes continued the bluegrass connection with Garcia on an album recorded in 1993 featuring Hall of Fame members Tony Rice and David Grisman.