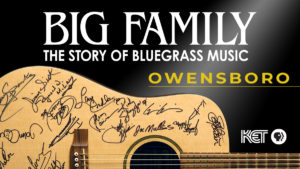 Join us at the Hall of Fame for a free exclusive screening of KET's new documentary Big Family: The Story of Bluegrass Music. Featuring footage from around the world, interviews with legends and newcomers alike and – of course – incredible music, Big Family will make your toes tap and your heart swell with pride for Kentucky's native music.
Fans can tune in to see the film on: KET Friday, August 30 • 9/8 pm
This two-hour screening starts at 7 pm Central Time.
This event is free, but reservations are required.