The Earls of Leicester
July 12, 2019 - 7:00 pm

-

8:30 pm

Ticket Prices: $30 – $35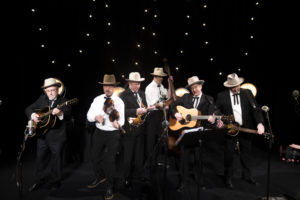 Doors open at 5 pm, show starts at 7 pm.  Bar and concessions will be open at 5 pm, and exhibits will available for pre-show touring.  Bundle museum admission with your tickets for a discounted rate.
When the Earls of Leicester formed in 2013, their mission was ambitious but exact: to preserve and promote the legacy of bluegrass legends Lester Flatt and Earl Scruggs, in hopes of reviving the duo's music for longtime admirers and introducing a new generation to their genre-defining sound. Within a year of releasing their self-titled debut, the Nashville-based six-piece far surpassed their own expectations, winning a Grammy Award for Best Bluegrass Album and earning six awards from the International Bluegrass Music Association. Now, with their first live album, Earls of Leicester offer up a selection of songs that fully capture the pure joy and supreme musicianship that propel their every performance.
Recorded over two nights at Nashville's CMA Theater, The Earls of Leicester Live at The CMA Theater in The Country Music Hall of Fame bears a boundless vitality that makes songs from over a half-century ago feel irresistibly fresh. Despite the band's painstaking precision in recreating the catalog of Flatt and Scruggs's Foggy Mountain Boys, the album unfolds with an easy warmth that honors the essence of traditional bluegrass, which Douglas describes as "music that was meant to be played on back porches." Earls of Leicester Live is also accompanied by a DVD that shows the complete splendor of their live set: the throwback attire, the off-the-cuff but illuminating between-song banter, the relentless hotfooting required of their stage setup. "Our goal is to go out and reacquaint everybody with the music of Flatt and Scruggs just the way they did it, which means fewer microphones and a good amount of choreography," says Douglas. "We're trying to put as much as we can into the music before it even reaches the speakers."
The Bluegrass Music Hall of Fame & Museum is proud to partner with two neighboring hotels to enhance your visit to Owensboro.  Enjoy a concert with us, then spend the night in a new riverfront hotel!
Hampton Inn & Suites Downtown Waterfront
Adjacent to the Bluegrass Music Hall of Fame & Museum, the Hampton Inn & Suites is offering exclusive rates, including free hot breakfast, for visitors and event attendees.  Please click below or call 270 685-2005 to book now.
For discounted hotel rates without bundling with tickets, click below:
Holiday Inn Owensboro Riverfront
Holiday Inn Owensboro Riverfront, conveniently located within walking distance to the Bluegrass Music Hall of Fame & Museum, is proudly offering exclusive room and event ticket packaging for the perfect night out. Enjoy dinner and drinks before the show at the hotel's full-service restaurant and bar, Burger Theory. To purchase your Room & Ticket package, please contact Ashley Aull, Director of Sales & Marketing at 270-683-1111 or via email:  [email protected]