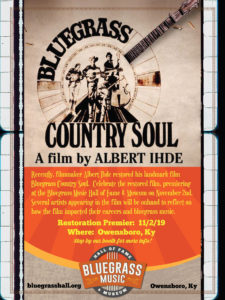 On Saturday, November 2nd, the newly restored documentary titled Bluegrass Country Soul will premiere at the Bluegrass Music Hall of Fame & Museum.  Produced and directed by filmmaker Albert Ihde, the film captured the Carlton Haney-produced Labor Day Bluegrass Festival held in Camp Springs, NC in 1971. Featuring first generation bluegrass icons Earl Scruggs, Ralph Stanley, Mac Wiseman, and Jimmy Martin, Bluegrass Country Soul captures the essence of early bluegrass festivals.  Additionally, Del McCoury, Ricky Skaggs, J.D. Crowe, The Osborne Brothers, Tony Rice, The Lilly Brothers with Tex Logan and Don Stover, Sam Bush, The Bluegrass 45 (from Japan), The New Deal String Band and Roy Acuff are featured in the landmark film.
With only one remaining 35 mm print in existence, it was evident the film was in desperate need of restoration before critical footage was lost.  Nearing the golden anniversary of the festival, Ihde began the restoration process with the goal of preserving the film in a digital format.
Ihde comments, "We are proud and honored to donate an archival copy of Bluegrass Country Soul to the permanent collection of the Bluegrass Music Hall of Fame & Museum. It seems perfectly fitting that we should have this premier as we approach the 50th anniversary of the legendary festival.  When we were contacted by the Hall of Fame in 2017 and asked for items about the movie for an exhibit in the new building, we realized an archival copy of the movie should be donated to the Hall of Fame collection so current and future generations of bluegrass music lovers would be able to enjoy it for years to come. We are very thankful for assistance from the Hall of Fame in announcing and promoting Bluegrass Country Soul, and we look forward to returning to Owensboro in November for the restored movie's premiere."
Bluegrass Music Hall of Fame & Museum Executive Director Chris Joslin states, "Bluegrass Country Soul is an iconic documentary and provides a wonderful snapshot of the festival experience in the early 1970s. The music crosses all cultural boundaries in this film, and first-generation bluegrass artists are leading the charge inspiring a new generation of musicians and fans.  The bluegrass music community is like a big family, and Bluegrass Country Soul is our home movie.  It is an incredible film, and we are so pleased to host this premiere and to welcome the film maker and the wonderful artists who appear in the documentary.
Several artists featured in the film are scheduled to be on-hand for the premiere:
Curtis Blackwell
Bill Emerson
Alan Munde
Bobby Osborne
Akira Otsuka
Ronnie Reno
Cliff Waldron
Robert White aka Quail
Gary Wilson
The film premiere is free to the public and takes place at the Bluegrass Music Hall of Fame & Museum located in Owensboro, KY.  Doors open at 5 pm, film begins at 7 pm.  This is a free event, but reservations are recommended.