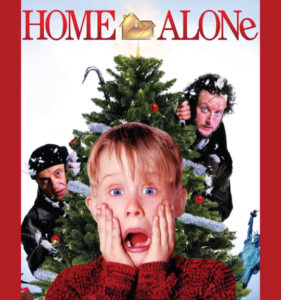 On December 15th, 2019, the Bluegrass Music Hall of Fame & Museum kicks off its holiday movie schedule which runs through December 29th, 2019. Classic holiday films will be shown in the Hall of Fame's Woodward Theatre.  Built as a multi-use performance space, Woodward Theatre's state-of-the-art design allows for film projection in 4k resolution.  Upcoming features include Rudolph the Red-Nosed Reindeer, It's a Wonderful Life, and Home Alone.
8-year-old Kevin McCallister is accidentally left behind when his family takes off for a vacation in France over the holiday season. Once he realizes they've left him home by himself, Kevin learns to fend for himself. He eventually has to protect his house against bumbling burglars Harry and Marv, who are planning to rob every house in Kevin's suburban Chicago neighborhood. Kevin's mother Kate is frantic when she realizes that she and the family have unintentionally left Kevin behind in Chicago, and she tries to make it back to Chicago as fast as she can, getting help from a polka band leader named Gus Polinski.
Tickets are $5 each, and children 12 & under are FREE.  Bar and concessions are available for all showings.