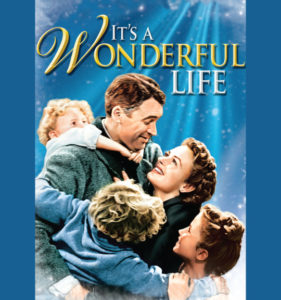 On December 15th, 2019, the Bluegrass Music Hall of Fame & Museum kicks off its holiday movie schedule which runs through December 29th, 2019. Classic holiday films will be shown in the Hall of Fame's Woodward Theatre.  Built as a multi-use performance space, Woodward Theatre's state-of-the-art design allows for film projection in 4k resolution.  Upcoming features include Rudolph the Red-Nosed Reindeer, It's a Wonderful Life, and Home Alone.
George Bailey has so many problems he is thinking about ending it all - and it's Christmas! As the angels discuss George, we see his life in flashback. As George is about to jump from a bridge, he ends up rescuing his guardian angel, Clarence - who then shows George what his town would have looked like if it hadn't been for all his good deeds over the years.
Tickets are $5 each, and children 12 & under are FREE.  Bar and concessions are available for all showings.