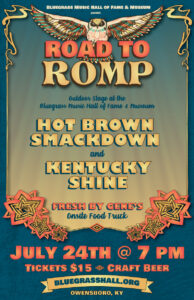 Join us for the Road to ROMP with Hot Brown Smackdown and Kentucky Shine on July 24th at 7 pm!  This event will take place on the outdoor stage of the Bluegrass Music Hall of Fame & Museum.  Seating will not be provided, so bring your own chairs or blanket.  Bar and concessions will be available.  Gates open at 6:00 pm.  Fresh by Gene's food truck will be onsite along with craft beer vendors and a full bar.  Tickets are $15 each, and kids 6 & under are free!
Bonus - A lucky advance ticket buyer will win 2 VIP tickets to ROMP 2021!
Hot Brown Smackdown is a 6-piece jamgrass ensemble from the great city of Louisville, KY.  Hot Brown has delighted concert/festival goers for years, combining brightly textured, hard-driving, POWERFUL bluegrass polyphony with high-energy groove and soul.  They love what they do, and it's evident at every show with their energy, enthusiasm, and their connection with the crowd.  They're here to have fun and spread the love, and the audience always reciprocates in full!
Kentucky Shine burst onto the online Bluegrass scene in February of 2020. Within their first two months of launching they gained thousands of followers across their social media platforms and gained attention from the bluegrass music community all across Kentucky. Though their start in 2020 was challenging, they had the honor to play shows with JD Wilkes, Hancock and Shouse, Hot Bown Smackdown, and were invited to perform from inside the OVW ring for an empty arena online concert. Kentucky Shine hails from the banks of the Ohio River in Owensboro, Kentucky. The band is comprised of Jordan Wood (guitar), Steven Stewart (Fiddle), Jordan Riehm (banjo), and JB Miller (bass).