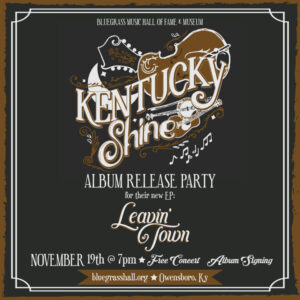 Join us for the Kentucky Shine Album Release Party for their new EP Leavin' Town on November 19th!  Hailing from our backyard in Owensboro, Kentucky, Kentucky Shine will perform a FREE concert in our Woodward Theatre and host fans following the show to sign merchandise and more.  Seating is general admission and the concert begins at 7 pm.  Doors open at 6 pm, and bar and concessions will be available.  Help us support local music and hometown bluegrass in Kentucky Shine!
Kentucky Shine's members include Jordan Wood (Guitar), Steven Stewart (Fiddle), JB Miller (Bass), and Jordan Riehm (Banjo).  Each of these musicians have many different influences, and have a deep respect for Traditional Bluegrass, Western Swing, Jam Grass, Classical Music, Blues, Funk, Country, and more. These unique influences afford them the ability to bring new and innovative music to the bluegrass family while maintaining the traditional lonesome harmonies and characteristics that are unique to the Bluegrass sound.
​
Covid-19 Info:  Face masks are recommended but not required. By entering this venue, you acknowledge that you may be exposed to those that may have illness including Covid-19. Kentucky Shine and the Bluegrass Music Hall of Fame & Museum are not responsible if you contract illness, including Covid-19. Guide yourself accordingly.