Mandolin Orange
September 28, 2019 - 7:00 pm

-

8:30 pm

Ticket Prices: $25.00 – $30.00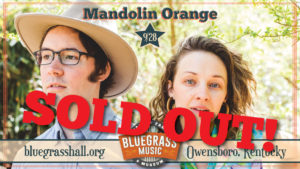 SOLD OUT!
Doors open at 5 pm, show starts at 7 pm.  Bar and concessions will be open at 5 pm, and exhibits will available for pre-show touring.  Bundle museum admission with your tickets for a discounted rate.
Mandolin Orange's music radiates a mysterious warmth —their songs feel like whispered secrets, one hand cupped to your ear. The North Carolina duo have built a steady and growing fanbase with this kind of intimacy, and on Tides of A Teardrop, due out February 1, it is more potent than ever. By all accounts, it is the duo's fullest, richest, and most personal effort. You can hear the air between them—the taut space of shared understanding, as palpable as a magnetic field, that makes their music sound like two halves of an endlessly completing thought. Singer-songwriter Andrew Marlin and multi-instrumentalist Emily Frantz have honed this lamp glow intimacy for years.
The Bluegrass Music Hall of Fame & Museum is proud to partner with two neighboring hotels to enhance your visit to Owensboro.  Enjoy a concert with us, then spend the night in a new riverfront hotel!
Hampton Inn & Suites Downtown Waterfront
Adjacent to the Bluegrass Music Hall of Fame & Museum, the Hampton Inn & Suites is offering exclusive rates, including free hot breakfast, for visitors and event attendees.  Please click below or call 270 685-2005 to book now.
For discounted hotel rates without bundling with tickets, click below:
Holiday Inn Owensboro Riverfront
Holiday Inn Owensboro Riverfront, conveniently located within walking distance to the Bluegrass Music Hall of Fame & Museum, is proudly offering exclusive room and event ticket packaging for the perfect night out. Enjoy dinner and drinks before the show at the hotel's full-service restaurant and bar, Burger Theory. To purchase your Room & Ticket package, please contact Ashley Aull, Director of Sales & Marketing at 270-683-1111 or via email:  [email protected]