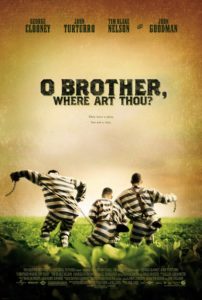 On Friday, August 30th, the Bluegrass Music Hall of Fame & Museum offers a free showing of the Coen Brothers classic film, O, Brother Where Art Thou?.  Presented by Glenn Family Services, the film is shown during Friday After 5 events in the theatre at the Hall of Fame.
Prior to the film, members of Lousville-based band Relic, along with Hall of Fame education director Randy Lanham, perform classics from the O Brother, Where Art Thou? soundtrack which features many bluegrass artists and standards.  After the musical performance in the Hall of Fame theatre, the film is shown in the same setting.
In the Depression-era deep South, three escapees from a Mississippi prison chain gang: Everett Ulysses McGill, sweet and simple Delmar, and the perpetually angry Pete, embark on the adventure of a lifetime as they set out to pursue their freedom and return to their homes. With nothing to lose and still in shackles, they make a hasty run for their lives and end up on an incredible journey filled with challenging experiences and colorful characters. However, they must also match wits with the cunning and mysterious lawman Cooley, who tracks men, bent on bringing the trio back to the prison farm.
Doors open at 5 pm, and the short musical performance begins at 7 pm.  O Brother, Where Art Thou? begins following the musical performance.  Bar and concessions are available throughout the performance and showing of the film.