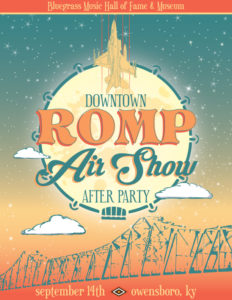 The Bluegrass Music Hall of Fame & Museum announces the first Downtown ROMP taking place on its outdoor stage Saturday, September 14th, 2019.  In conjunction with activities during the Owensboro Air Show, the Downtown ROMP Air Show After Party features four past ROMP Festival alums:  Dustbowl Revival, Scythian, Rumpke Mountain Boys, and Hogslop String Band.
Beginning at noon on September 14th, ticket holders have access to lawn seating in the outdoor stage space to take in the sights and sounds of the air show.  At the conclusion of the air show, music begins on the outdoor stage and continues into the evening.  Food vendors, outdoor bar stations, and concessions are available throughout the event.  The movie Top Gun also runs continuously during the air show in the Hall of Fame's theatre for ticket holders to take in the high-flying classic starring Tom Cruise.
A VIP experience is also available.  VIP ticket holders have access to the third floor Independence Bank Event Room, which features expansive views of the riverfront with a large balcony space.  A catered meal and hors d'oeuvres are included with the VIP option.  Group rates for VIP tickets are available via corporate sponsorship.  For more information about sponsorship, please call 270-926-7891.
Lawn seating tickets (bring your own chairs) are $15 each for the full day including air show viewing, movie, and concert.  Children 12 & under accompanied by an adult lawn ticket holder are free. VIP tickets are $200 each.  Gates open at noon.
Artists featured (schedule subject to change):
4:00 - Hogslop String Band
5:15 - Rumpke Mountain Boys
7:00 - Scythian
9:00 - Dustbowl Revival
FAQ:
No coolers allowed
Kids 12 & Under are free for Lawn Seating Only (Not VIP)
Parking available in adjacent parking garage
No camping