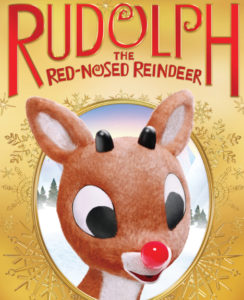 On December 15th, 2019, the Bluegrass Music Hall of Fame & Museum kicks off its holiday movie schedule which runs through December 29th, 2019. Classic holiday films will be shown in the Hall of Fame's Woodward Theatre.  Built as a multi-use performance space, Woodward Theatre's state-of-the-art design allows for film projection in 4k resolution.  Upcoming features include Rudolph the Red-Nosed Reindeer, It's a Wonderful Life, and Home Alone.
Sam the snowman tells us the story of a young red-nosed reindeer who, after being ousted from the reindeer games because of his beaming honker, teams up with Hermey, an elf who wants to be a dentist, and Yukon Cornelius, the prospector. They run into the Abominable Snowman and find a whole island of misfit toys. Rudolph vows to see if he can get Santa to help the toys, and he goes back to the North Pole on Christmas Eve. But Santa's sleigh is fogged in. But when Santa looks over Rudolph, he gets a very bright idea...
Tickets are $5 each, and children 12 & under are FREE.  Bar and concessions are available for all showings.