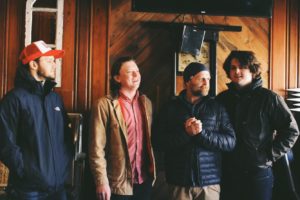 Visit Owensboro along with the Kentucky Department of Tourism and Brand USA will launch the local campaign for Owensboro being selected as one of ten music cities for Brand USA's Hear The Music Campaign. The Wooks perform a free concert for the public in honor of Owensboro's selection.
The Wooks translate the sights and sounds of the people, hills, bars, roads, and creeks around them into songs and shows that captivate. With both respect for their heritage and innovative originality, The Wooks are the natural evolution of a sound that has always been there.
Capturing a moment, and a place — its past, people, and terrain within a song, The Wooks harness the rich musical and storytelling traditions of Kentucky into a new, old sound that embraces both string-music heritage and rock 'n roll, jam, and singer-songwriter influences. Since 2014, the band, CJ Cain (lead guitar, vocals), Harry Clark (mandolin, vocals), Roddy Puckett (bass, vocals), George Guthrie (Banjo), have delivered a raw, boot stomping, sing-along to every song, good-time bluegrass show, "...with improv-savvy interplay that endears the band to jam music fans and bluegrass traditionalists alike," according to the Lexington Herald-Leader.
Doors open at 5:30 pm, concert begins at 6:00 pm.