Riders In The Sky
May 4, 2019 - 7:00 pm
Ticket Prices: $30 – $35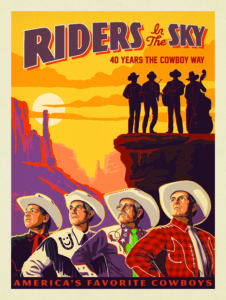 For more than forty years, Riders In The Sky have led the way in Western music, a genre pioneered by Gene Autry and Roy Rogers.  Known for legendary wacky humor and way-out Western wit, the band has continued to take their music to new audiences.  In 1982, Riders In The Sky became the first, and to date only, exclusively Western music artist to join the Grand Ole Opry, the longest running radio show in history, and thus began a love affair with radio. In 1988, they recorded comedy skits for the album Riders Radio Theatre and launched the long-running international weekly radio show of the same name on public radio.
In 2001, Riders In The Sky garnered their first Grammy for "Best Musical Album for Children" with the immense success of Woody's Round Up from the Toy Story movie franchise.  A few years later, they earned another Grammy in the same category for Monsters Inc. – Scream Factory Favorites, the companion album to Pixar's Monsters Inc.
Riders In The Sky bring their Western style and 'Cowboy Way' to the Hall of Fame for an entertaining trip out west on Saturday, May 4th.  Tickets are on sale now.  Preferred seating is $30 and reserved seating is $25.  The museum and lobby open at 5:00 pm, doors to Woodward Theatre open for all shows at 6:00 pm, and music begins at 7:00 pm.   Discounted museum admission to tour exhibits is available to all concert attendees. Bar and concessions will be open at 5 pm.
The Bluegrass Music Hall of Fame & Museum is proud to partner with two neighboring hotels to enhance your visit to Owensboro.  Enjoy a concert with us, then spend the night in a new riverfront hotel!
Hampton Inn & Suites Downtown Waterfront
Adjacent to the Bluegrass Music Hall of Fame & Museum, the Hampton Inn & Suites is offering exclusive rates, including free hot breakfast, for visitors and event attendees.  Please click below or call 270 685-2005 to book now.
For discounted hotel rates without bundling with tickets, click below:
Holiday Inn Owensboro Riverfront
Holiday Inn Owensboro Riverfront, conveniently located within walking distance to the Bluegrass Music Hall of Fame & Museum, is proudly offering exclusive room and event ticket packaging for the perfect night out. Enjoy dinner and drinks before the show at the hotel's full-service restaurant and bar, Burger Theory. To purchase your Room & Ticket package, please contact Ashley Aull, Director of Sales & Marketing at 270-683-1111 or via email:  [email protected]