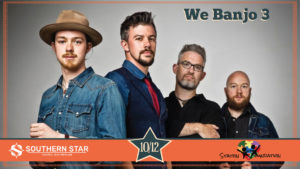 Presented by Southern Star Central Gas Pipeline and The Staton Foundation, join us October 12th for ROMP Festival favorite We Banjo 3!
Grassroots, crossover sensation We Banjo 3 is one of the most prolific and exciting bands to emerge from Ireland in recent years. Contrary to the band's name, this Galway/Nashville-based quartet comprises two sets of brothers, Enda & Fergal Scahill and Martin & David Howley, onbanjo, fiddle, mandolin, guitar, bodhran, and percussion. Their music is a passionate blend of Americana, bluegrass, Celtic, world music and pop propelled by lead singer David Howley's emotive voice and pitch perfect harmonies from this band of brothers. Their high-energy, audience-engaging live show brings audiences to their feet!
The band's last studio recording, Haven, was released in July of 2018 and spent 3 weeks at # 1 on Billboard's Bluegrass chart and received rave reviews from the press, with Glide Magazine saying, "There's a lesson to be learned here as well. It's one thing to be astute musicians — which this band assuredly is — but it's quite another thing to be able to craft melodies that are worthy of that articulate approach. Suffice it to say that We Banjo 3 are adept at doing both. An exceptional album, Haven ought to ensure that We Banjo 3 reach the sanctified status of they deserve."  RTE Radio 1 (the Irish equivalent to the BBC) named Haven "Folk Album of 2018" at their annual awards show.
On July 19th, We Banjo 3 will release a new live recording, Roots To Rise Live, on CD and vinyl.  Recorded in February of 2019 at The Ark in Ann Arbor, Michigan, Roots To Rise Live features 14 songs and is a mix of original material, traditional compositions, and select cover songs, including a surprise in the middle of "Prettiest Little Girl."   It also includes two previously unreleased tunes, "Shine On," which is a fan favorite at their live shows, and "John Brown's."
We Banjo 3 will continue to partner with Mental Health America on their Roots To Rise tour to raise funds and awareness for the organization.  The band will continue to donate $2.00 from the sale of every t-shirt to MHA. 
Doors open at 5 pm, theatre at 6 pm, showtime is 7 pm.  Bundle concert tickets with museum admission for a discount on touring exhibits.