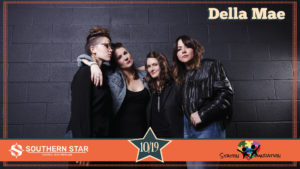 Presented by Southern Star Central Gas Pipeline and The Staton Foundation, join us October 19th for ROMP Festival favorite Della Mae!
Della Mae is a GRAMMY-nominated, Nashville-based, all-female string band made up of lead vocalist/guitarist Celia Woodsmith, 2-time national champion fiddle player Kimber Ludiker, mandolinist Jenni Lyn Gardner, and upright bassist Zoe Guigueno. Hailing from across North America, and reared in diverse musical styles, they are one of the most charismatic and engaging roots bands touring today. They have traveled to over 30 countries spreading peace and understanding through music.
Their mission as a band is to showcase top female musicians, and to improve opportunities for women and girls through advocacy, mentorship, programming, and performance.
Doors open at 5 pm, theatre at 6 pm, showtime is 7 pm.  Bundle concert tickets with museum admission for a discount on touring exhibits.