The Stoneman Family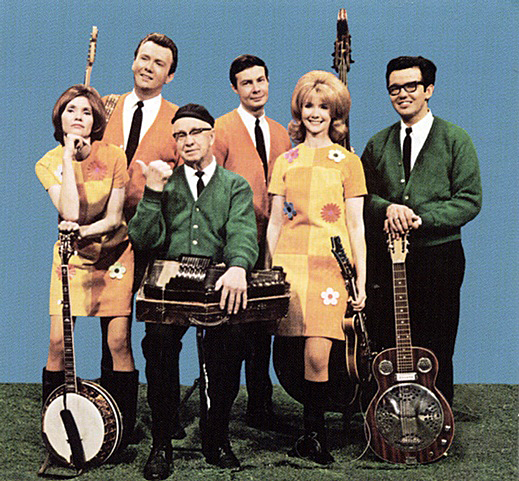 Biography
The Academy of Country Music once reported that the Stoneman Family was the longest-running continuous act in country music history. Indeed, the group's story began in 1924 when a Galax, Virginia, carpenter named Ernest V. "Pop" Stoneman journeyed to New York City in hopes of getting his music on records. Nearly a century later—Pop's daughters Donna and Roni were still recording and releasing music.
The story of the Stoneman Family spans two generations. Ernest was born in 1893 and began his recording career at age thirty-one. For a time, he earned enough from personal appearances and record royalties to make a living from music. That ceased with the onset of the Great Depression. Even millwork, which employed a significant segment of Stoneman's community, was hard to come by. With a large family that was still growing—he and wife Hattie had twenty-three children, thirteen of whom survived to adulthood—the Stonemans relocated to Washington, D.C., where Ernest hoped to ply his trade as a carpenter. The headline of a 1938 article about the Stonemans that appeared in the Evening Star newspaper told of their plight: "Mountain Family's Hunger Puts Blues in Merry Music."
The onset of World War II created numerous manufacturing and production jobs and Ernest found steady work at the U.S. Naval Gun Factory in Washington. Even though times had been hard, making music persisted.
Enter the second generation. In June 1948, Pop Stoneman and a group comprised of various children appeared in a talent search that was held at Constitution Hall in Washington, D.C. The event was sponsored by area promoter Connie B. Gay. As winners in the search, the Sensational Stoneman Family, as they were billed, were granted twenty-seven weeks of performances at Constitution Hall, radio airtime, and appearances on the Gay Time television program.
It was several more years before the bluegrass sound of the Stonemans came to the forefront. In the meantime, Ernest busied himself with a group he called Pop Stoneman and His Little Pebbles. The best piece of luck to come Pop Stoneman's way occurred in 1956. He appeared on a television quiz program hosted by future newscaster Mike Wallace called The Big Surprise. After several weeks, he went home with a grand prize of $10,000 (about $100,000 in 2021 dollars). Although it didn't pay nearly as much, Pop and the Little Pebbles won the band competition at the Galax Fiddlers' Convention in 1956.
In the mid-1950s, Scotty, Donna, and Jimmy Stoneman, guitarist Jimmy Case and banjoist Porter Church formed a group that came to be known as the Blue Grass Champs. The band had a big year in 1956 that included a winning performance of "Salty Dog Blues" on the Arthur Godfrey Talent Search program. Later that summer the group competed at the National Country Music Championship contest in Warrenton, Virginia, taking first place in the band category; Scotty took first place on fiddle. They also began a long-running engagement at the Famous, a nightclub in downtown Washington, D.C., and in 1958 had a television program on WTTG, also in D.C.
After being away from recording studios for nearly twenty-five years, Pop, Hattie, and Van contributed to a 1957 Folkways album, Old-Time Tunes of the South. Roni's first solo recording, "Lonesome Road Blues," appeared on the Mike Seeger anthology American Banjo Tunes & Songs in Scruggs Style, the first time that a woman played Scruggs-style banjo on record. Donna likewise charted new territory as the first woman to play bluegrass mandolin on a recording; it was a 1957 release by the Blue Grass Champs on the Bakersfield label. Scotty Stoneman stayed busy adding his fiddle to recordings by Buzz Busby, Red Allen and Frank Wakefield, Earl Taylor, and Jim Eanes, among others.
By 1962 the Blue Grass Champs had been rechristened the Stoneman Family. They recorded two albums for Starday and made a guest appearance on the Grand Ole Opry. That same year Donna Stoneman added her mandolin playing to seven tracks on the Rose Maddox Sings Bluegrass album. An extensive series of photos from this period shows a colorful group completely at home in the settings of country music parks. At the forefront was the fiery fiddle of Scotty Stoneman, who often appeared drenched in sweat from his performances. Equally commanding was the solid banjo work of Roni Stoneman on banjo and perky Donna Stoneman's mandolin, the latter known as much for her lively dance steps as she was for her instrumental prowess. Bill Monroe was reported to have related that, in an audience popularity competition among mandolin players, Donna would win!
In 1964 the Stoneman Family headed west to California for two years. There, they found work at the Ash Grove, the Troubadour, the Monterey Folk Festival, and Disneyland. They also inked a deal with MGM which ultimately netted four albums: Those Singin', Swingin', Stompin', Sensational Stonemans; Stonemans' Country; It's All In The Family; and The Great Stonemans. At their producer's insistence, the material leaned more towards mainstream country than bluegrass. This placed the group in the unenviable situation of being too country for bluegrass and too bluegrass for country. Roni later pleaded with fans to not judge the group by these recordings, stating: "They're not us."
At the start of 1966 the group relocated to Nashville. They quickly secured a weekly, half-hour television program that ran for the next three and a half years and a long engagement at downtown's Black Poodle Night Club. These appearances, in conjunction with their MGM releases, earned them a Vocal Group of the Year award from the Country Music Association in 1967. Pop Stoneman passed away the following year and Patsy Stoneman (who had earlier led a bluegrass band in the D.C. area) stepped in to take his place on autoharp and vocals, honoring his wish that the older songs and styles continue to be remembered and performed.
At the conclusion of the Stonemans' deal with MGM, they moved to RCA and continued with the same pop/country format. The early 1970s brought major changes to the group with the departure of key members Donna, Roni, and Patsy. Another blow to the family came in 1973 when Scotty (who had left to play with the Kentucky Colonels and Charlie Pride) died from alcohol-related issues. Donna subsequently devoted her energies to religious endeavors. Patsy eventually returned to the group. In 1973 Roni joined the cast of Hee Haw, a variety show with a country music theme, stayed with the program for nineteen years, playing banjo and comedy character Ida Nagger.
Various incarnations of the Stoneman Family soldiered on through the 1980s and recorded several albums for the CMH label. The family tradition extended into the twenty-first century with recordings by Donna and Roni appearing as recently as 2020.
——
Gary Reid is a bluegrass music historian, journalist, and producer based in Roanoke, Virginia. 
"I never knew until I was in the third grade at school that there was another world besides the world of music. I thought everyone in the whole world played an instrument and sang. I thought making music went along with breathing and walking."
Roni Stoneman, quoted by Wayne W. Daniel in "The Serious Side of Roni Stoneman," Bluegrass Unlimited, June 1990.
"Pa would sing lead, an' I'd come along with the tenor. We'd do things like 'Sourwood Mountain' and 'She'll Be Comin' 'Round the Mountain,' with Ma working it out on her violin. That fiddle has been in our family 175 years – but Lordy, it's getting all unglued now."
Eddie Stoneman, quoted in "Mountain Family's Hunger Puts Blues in Merry Music," Washington Evening Star, August 24, 1938.
"Donna Stoneman is the only one that could hold a light to me on a mandolin." Jethro Burns, quoted on The Tonight Show, ca. 1960s.
"My brother Scott could play a fiddle with a coat hanger, a toothpick, a comb. Anything he could get his hands on. Daddy said, 'I reckon that Scott's about the only child I got with a fiddle wrist. He'll be the fiddle player.' We were playin' up in Maryland when he won the national fiddle contest. They brought him back on their shoulders through the door of the club. Scott hollered, 'Hey, I won, I won, I won, I won!'"
Patsy Stoneman, quoted by Robert K. Oermann in America's Music: The Roots of Country, 1996.
Read the Full Bio