Wilma Leigh Leary "Wilma Lee" Cooper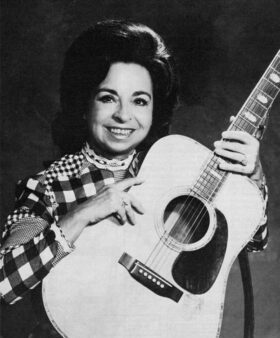 Year Inducted: 2023
Born: February 7, 1921 in Valley Head, West Virginia, United States
Died: September 13, 2011 in Sweetwater, Tennessee, United States
Primary Instrument: guitar
"I sing just like I did back when I was growing up there in those mountains of West Virginia. I've never changed. I can't change. I couldn't sing any other way."
Biography
In Pretty Good for a Girl: Women in Bluegrass, Murphy Hicks Henry writes: "In the world of hillbilly music, before country and bluegrass became separate genres, Wilma Lee Cooper was out there pounding the roads and making records." Cooper referred to her music as "just the old mountain style of singing." Bill Monroe said she possessed all the elements for being a bluegrass performer, and the Smithsonian in 1974 proclaimed her "The First Lady of Bluegrass." Regardless of how her music was labeled, she was a beloved performer for three quarters of a century.
During that time, she experienced three distinct settings or phases: first as a member of her family's gospel group, then as one half of a successful husband/wife duo, and finally as a solo bandleader. Through it all, she projected sturdy heart-felt vocals that reflected her mountain upbringing in the hills of West Virginia while undergirding her bands with powerful guitar accompaniment. Her repertoire was a varied tapestry of traditional songs that told a story, hymns, original compositions, and newly constructed pieces by her contemporaries. All were performed with a sincerity that endeared her to a multitude of fans from all walks of life.
Wilma Leigh (as her name was spelled at birth) began her musical journey, reportedly at age five, as a member of the Leary Family. Led by her parents, Jacob "Jake" and Lola Leary, the group gleaned its repertoire from the pages of shape-note hymnals. In time a trio evolved that included Wilma Leigh and her two younger sisters, Geraline (later known as Jerry Johnson) and Cathaline (later known as Peggy Gayle Leary); they added traditional ballads to the program. While known primarily for singing for friends and neighbors, a series of regional competitions led to the Leary Family representing the state of West Virginia at the 1938 National Folk Festival, which was held in Washington, D.C. While returning from the event, the group stopped at radio station WSVA in Harrisonburg, Virginia. After a hastily arranged audition, the family band was immediately added to the station's roster of talent.
The Leary Family returned to the National Folk Festival in 1939, and made recordings for the Library of Congress. The entire group sang on two songs: "On the Jericho Road" and "The Crawdad Song," while Wilma Leigh and her sisters sang "Old Black Mountain Trail." Upon graduating from high school, Wilma obtained a degree in banking at Davis and Elkins College.
Phase two of Wilma's career was somewhat of a slow transition. In the fall of 1938, Jake Leary hired a fiddler, Dale T. "Smiley" Cooper. Before long, Dale and Wilma were singing duets together, adopting the stage name "The Singing Pals." Their musical chemistry blossomed into a romance that culminated in their marriage in June 1941. At about the same time, the Leary Family landed a spot on WWVA radio in Wheeling, West Virginia. The Singing Pals remained a part of the program until the birth of their first and only child, Carolee, on March 21, 1942. It was around the same time that Wilma simplified the spelling of her name to Wilma Lee and Dale changed his stage name to "Stoney," following an on-air contest.
For a while, the new parents strove to create a less nomadic lifestyle for the growing family. Stoney took a job as a beverage delivery driver, but the couple soon realized they weren't cut out for staid domestic life. They resumed performing and, over the next five years, bounced around to a number of radio outlets including KMMJ in Grand Island, Nebraska; WIBC in Indianapolis; WJJD in Chicago; WMMN in Fairmont, West Virginia; KLCN in Blytheville, Arkansas; and WWNC in Asheville, North Carolina. Sometimes they traveled as a duet, at other times as part of the Leary Family. At one stop, the evolving band acquired the name Stoney Cooper's Blues Chasers. Yet another layover witnessed the integration of young Carolee into the act.
It was while working at WWNC in March 1947 that Wilma Lee and Stoney adopted a new band name, the Clinch Mountain Boys, and also came to the attention of Jim Stanton of Rich-R-Tone records. The group's debut recordings, a total of sixteen tracks, were committed to disc, but only eight were issued at the time. Included was a song that would remain a staple of Wilma Lee's repertoire: "Tramp on the Street." Although the group went on to enjoy a lengthy recording career, Wilma Lee always felt that these early Rich-R-Tone sides represented their best recorded output, mainly for the quality of the material and the depth of feeling they displayed.
Later in 1947 Wilma Lee and Stoney returned to WWVA in Wheeling, which had jumped from a 5,000-watt station to 50,000 watts. The northeast direction of the station's signal opened up a lot of work for the duo in the New England states and even into Canada. The combination of the increased radio exposure and the popularity of some of the Rich-R-Tone releases brought the duo to the attention of talent scout Art Satherley at Columbia Records. They were signed to the label in 1948 and began recording in 1949. Satherley had recently signed the Stanley Brothers—who also used the band name, the Clinch Mountain Boys. To avoid the awkwardness of having two groups with the same name, it was decided that Wilma Lee and Stoney would change the name of their group to the Clinch Mountain Clan.
Between 1949 and 1953, Wilma Lee and Stoney recorded thirty-seven songs for Columbia. While none of them were chart hits, a number of the selections became career songs, including "Thirty Pieces of Silver," "I Ain't Gonna Work Tomorrow," "The Legend of the Dogwood Tree," "Walking My Lord Up Calvary Hill," "West Virginia Polka," and "Sunny Side of the Mountain." Musicians on these recordings included future bluegrass luminaries fiddler Tex Logan and Dobro picker Josh Graves.
It was with Columbia that, in contrast to the Rich-R-Tone recordings, Wilma Lee's name came first in the billing of the group: Wilma Lee and Stoney Cooper and the Clinch Mountain Clan. A bit of hype disseminated by Columbia proclaimed Wilma Lee as "America's No. 1 girl Folk singer, her mountain country style singing of Religious Folk songs has become so popular throughout the Nation, that her Records are top hits everywhere." Another bit of publicity that served the group well was the 1950 description of them by Harvard University's music library as "the most authentic mountain singing group in the United States."
With the exception of a ten-month interval in 1953/'54 at the Old Dominion Barn Dance in Richmond, Virginia, Wilma Lee and Stoney logged ten years in Wheeling. They put down roots by purchasing a house. Making use of Wilma's business acumen derived from her college studies, they opened a record shop. The duo also made a series of transcriptions, sponsored by Carter's Little Liver Pills, that were syndicated to 20 different stations.
Wilma Lee and Stoney signed with a new label in 1955, the freshly minted Hickory Records that was started by Roy Acuff and Wesley Rose. Over most of the next decade, the duo recorded 74 songs and tunes for that label. It was here they had their most significant chart success with songs such as "Each Season Changes You," "(I've Been) Cheated, Too," "Come Walk With Me," "Big Midnight Special," "There's a Big Wheel" and "Wreck on the Highway." They began recording with Scruggs-style banjo in 1956, on Hickory.
It was the early chart successes on Hickory that led to Wilma Lee and Stoney's joining the Grand Ole Opry in the early part of 1957. Career highlights during this period included the couple's appearances in several films, including Country Music on Broadway (1964) and W. W. and the Dixie Dance Kings (1975). In 1974 Wilma Lee appeared as part of a Smithsonian Institution's Women in Country Music series.
The latter years of the Coopers' career were plagued by ill health. Stoney suffered a heart attack in 1963, and succumbed to a fatal recurrence on March 12, 1977. After a period of grieving and indecision, Wilma Lee returned to what she knew best, entertaining audiences with her brand of what she called "mountain music with a beat." She was a favorite on the bluegrass festival circuit and recorded a number of well-received albums for the Rounder, Leather, and Rebel labels. She remained an active performer on the Opry, and it was there that she logged her last public performances. A stroke in 2001, suffered on stage at the Opry, ended her touring career. She later made a final Opry appearance, participating in a group sing-along.
Gary Reid is a bluegrass music historian, journalist, producer, and actor based in Roanoke, Virginia.
Read the Full Bio